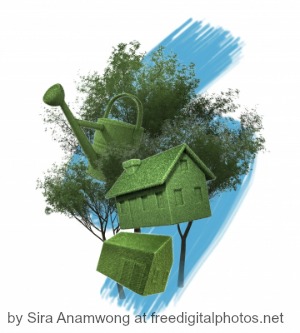 Planting trees in your backyard can do a great deal for energy conservation when it comes to cooling your home by providing shade.  Trees can also protect your home from wind and even enhance the look of your yard.  However, you can't just simply plant any seedling or young tree and leave it at that.  You do need to learn how to choose the right tree in the right place for a greener and safer home.
Trees differ in many ways, so it's very important to pick the right tree to fit your needs.  Deciduous trees, for example, are great at shading houses during summer, while large and small evergreen trees and shrubs can help slow cold winds during winter.  The location of the tree is also an important consideration if you want the tree for shade or wind protection.  Finally, you need to consider planting your tree far enough away from your home's foundation, sidewalks, pavement, and power lines so that it will be safe when your tree grows into maturity.
Planting trees can provide you with many of the advantages of an eco-friendly home, as long as you plant the right tree in the right place.