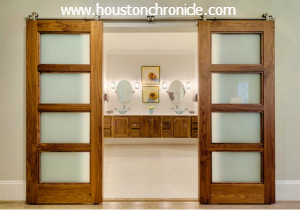 Designing a home isn't just about style. It's about functionality without sacrificing style. Recent sliding door designs that divide different parts of a house have helped many homeowners achieve efficient and still very stylish homes.
Many homeowners have decided to open up walls to make their living spaces more functional.  For example, it is easier to walk from the kitchen into the dining area through an open space rather than through swinging doors, especially if you're carrying a tray of food. The same is true as you go in and out of a laundry room with a pile of clothes. However, there are also times that you want to hide the clutter in these rooms or simply need some privacy. This is when sliding doors come in really handy. They can act as opened walls when you need them to but also provide privacy if necessary.  They are also an efficient use of space for homes with limited clearance for standard doors.
To complement the style of your home, today's sliding doors come in a variety of materials, styles, and finishes perfect for a wide range of traditional to contemporary homes.