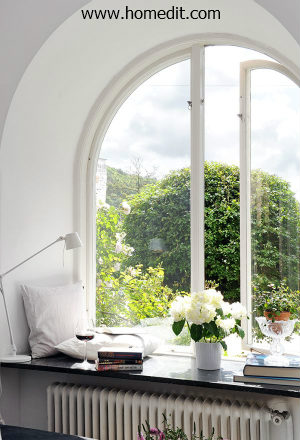 Sometimes, it's not just the curtains, blinds, or shades that make a window and a room lovely.  If you have window sills that are wide ledges, you can easily beautify this area or even make it a functional part of your home.
Here are some decorating ideas for your window sills:
Turn a wide, protruding window sill into a reading nook;
Decorate window sills with indoor plants in various canisters to create a tiny garden;
Place trinkets, knickknacks, and other ornaments to create an interesting focal point for your room;
Add candles to make evenings more romantic and rainy days cozier;
Put a bench or a seat by the window sill to offer a better view of the outdoors; and
Use your window sill as storage for boxes and jars in an office or a craft room.
Of course, there are many more ways you can use and beautify your window sills.  If you have more unique ideas, please share them with us through your comments below.