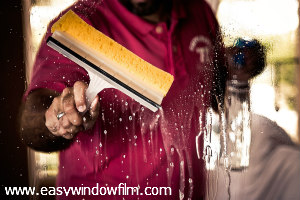 Window film can be installed on home windows, glass walls, and automotive windows for privacy, decorative purposes, or filtering harmful rays of the sun. While this film is practically maintenance-free, you do need to remove dust build-up and other dirt from time to time. Cleaning should be carefully done to avoid scratching the window film and to keep it in good condition after installation.
Here are some tips for cleaning and maintaining different types of window film:
Decorative film. This film is made of durable vinyl and is typically patterned and textured. It generally requires less cleaning but, if you need to, clean decorative film with mild soap or dish detergent using a wet rag and then wipe down the film. Despite the durability of the film, abrasives should be avoided because the adhesive can be affected.
Solar window film and tint. Solar film or home tint is usually made of a polyester film that appears clear but blocks UV rays and reduces the heat penetrating windows. This type of film is less durable than decorative tint and is more prone to visible marks and smudges. To clean solar window film, you can use any standard household window cleaner with a soft cloth. Avoid ammonia-based cleaners that could deteriorate the colors and adhesion of the tint.
Security film. Security film is a clear and colorless film with a scratch coating that is installed on glass walls and windows. Among all the types of window film, security film is the most durable; however, when cleaning glass with security film, a soft cloth and standard window cleaner are still advised. Ammonia-based cleaners should be avoided.
Automotive tint. Automotive tint is made of dyed polyester with adhesives, UV protection, and scratch coating. Cleaning car windows with automotive tint is just like cleaning and maintaining standard car windows, using a soft cloth and standard window cleaner. Again, it is better to avoid ammonia-based cleaners to protect the color and the adhesive properties of your tint.