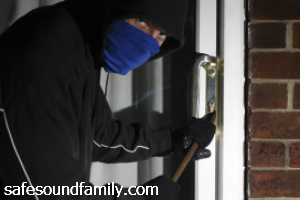 In addition to your belongings, the safety of the people inside your home is at risk when your home's security is slack. It's important to make sure that all entry points are secured to prevent intruders from breaking in.
Here are tips for burglar-proofing your doors:
Make sure entry doors are solid and kick-proof;
Avoid installing windows near entry doors, which can make it easy to reach for door locks and knobs;
Get rid of plants and shrubs that conceal the area around doors;
Install a deadbolt and a secondary lock;
Reinforce door frames; and
Reinforce glass in sliding doors and place a rod in the tracks to keep the panels from sliding in the event the lock is opened.
Never take chances when it comes to home security. Be sure to follow these simple and inexpensive yet effective ways to burglar-proof your doors for a safer home.