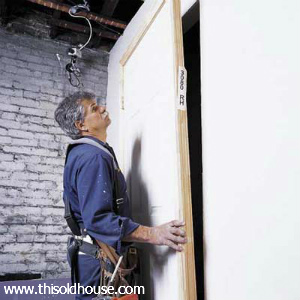 Pre-hung doors must be installed properly to ensure that they work efficiently. You need to make sure that they latch well and swing just the way they should. There should be no drafts or only minor ones that can be corrected with the addition of some weatherstripping.
To ensure a well-installed door, follow the 8 steps shared by Tomy Silva in This Old House that are summarized as follows:
Using a level, check the rough opening of the door including the floor, walls, and trimmers.
Shim the trimmers.
Fit the door into the opening.
Adjust and set the horizontal gap, or reveal.
Attach the jamb.
Take off the center screw from the top hinge and replace with a longer screw.
Attach the split jamb.
Install the latch hardware.
Be sure to read through the entire post here to get the detailed instructions with illustrations.