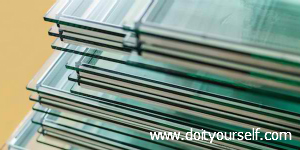 Tempered glass makes for a very safe and secure sliding patio door or any frameless glass door at home. This type of glass undergoes a thermal process that makes it more durable, as well as heat resistant.  It is also called a safety glass since it is does not shatter when broken.  Despite its durability, tempered glass is not immune to getting scratched or becoming cloudy.
To keep your tempered glass door well-maintained, here are some tips to keep in mind when cleaning your glass and keeping it shiny:
Never use a buffer or sander that may shatter tempered glass.
Do not use abrasive agents like scouring pads.
Do not use vinegar, but instead, use store-bought cleaners intended for tempered glass.
Alternately, you can make your own cleaning agent by mixing a few drops of dish soap and water in a spray bottle.
To start cleaning, spray a liberal amount of the mixture onto the glass and let it stand for 15 minutes. Use a damp sponge to wipe the surface and wring it out regularly.
Wipe the damp surface of the glass with a soft, dry cloth until it is dry and shiny.
Use a glass-polishing kit to treat scratches on your tempered glass and make them less visible.
Complete the cleaning process by repeating the washing step with a soap-and-water mixture using a damp sponge and drying with a soft, dry cloth.