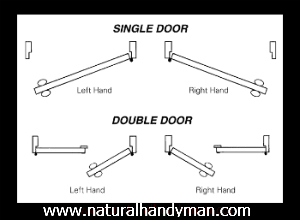 Knowing the swing, or the hand, of a door is important when planning for the installation of lock handles that are different, such as those for the inside and outside of the door.
Many homeowners find determining the hand of a door to be confusing, but here are some tips that should help.
With the door open, stand in the doorway with the hinge jamb behind you. If your left hand is closer to the door knob or if you use your left hand to swing the door, then the door is left-handed.  If your right hand is closer to the knob, then your door is right-handed.
If you are going to install a door in a rough opening, you need to determine where the hinges will go and then follow the same tip above to determine the correct handing lockset to purchase. With exterior doors, you also need to determine if the door swings inward or outward, in addition to the handing.  Most exterior doors swing inward but outswinging doors are available.
Read more tips on door handing here, especially when it comes to purchasing exterior doors and double doors.