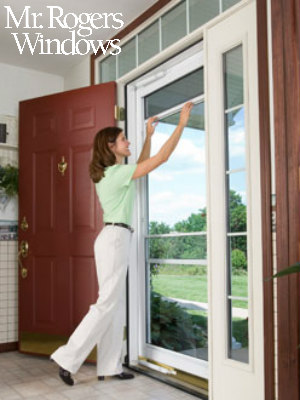 Storm doors protect your main door from external factors, such as wind, rain, and snow. To accommodate the different needs of homeowners during different seasons, various options have been created for storm doors. One of these design developments is the vented storm door, which is constructed in such a way that a glass panel slides open to provide ventilation.
Vented and unvented storm doors:
Screen doors – while screen doors are not technically storm doors, they do protect your home from insects and bugs while also providing ventilation.
Full glass doors – these are unvented storm doors that give you an unobstructed view of and from the outside while also helping control the temperature inside your house.
Lower vent storm doors – These doors usually have a metal panel on the lower part of the door, and the upper portion is made of two glass panes. The lower glass pane may be raised and lowered to open and close it. The upper portion of the storm door also features a screen on the outside to keep insects out without restricting air flow.
Upper vent storm doors – Some full-glass and half-glass models also feature upper vent panels, wherein the glass can be lowered and lifted to open or close the vent. Again, a screen is mounted on the outside to keep insects away.