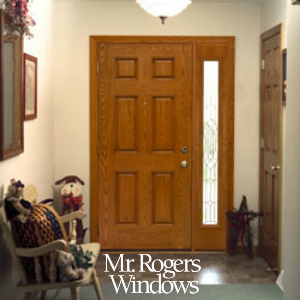 Are you tired and bored with the way your front door looks? Is the paint faded? Are there visible dents and cracks? Door replacement is not the only answer, especially if the door mechanism still works well.
Sometimes all you need to do is refinish your front door and replace the hardware. Here are some tips that will help you update the look of your front door:
• Do the project when the weather is nice;
• Repaint away from direct sunlight;
• Remove all hardware before starting anything else;
• Remove the door from the frame or keep it hanging and place a drop cloth underneath;
• Scour the door and remove any peeling paint;
• Sand the door;
• Apply 2 coats of an oil-based primer;
• Fill any cracks or indentions with a vinyl spackling compound;
• Coat the door with glossy acrylic latex paint;
• When painting a wooden door, always brush in the direction of the wood grain; and
• Replace old hardware with high-quality new hardware that is worth your investment.
You can read the detailed instructions here.