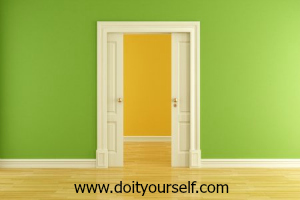 Pocket doors are back.  Welcome the elegant and floor space-saving pocket doors of the 1890s with quieter, sturdier, and more efficient hardware that will match your traditional or modern home.  These doors are perfect for dividing rooms, such as living rooms and dining rooms. 
If you want to install a pocket door in your home, you need to determine first if your wall space is wide enough to accommodate both doors when opened and closed, as well as their frame.  For detailed instructions on installing a pocket door, click here.
Just like sliding doors, you do not need to swing open pocket doors, which helps to save space in the room.  All you need is enough space in your walls to accommodate the entire frame, as well as the doors when fully opened.