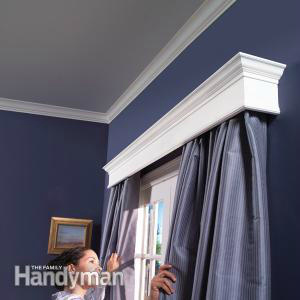 Looking for a new project to do over the weekend?  How about something that accents a window or door and will give your room a fresh and classy look?  You can add cornices over your windows or doors, and they are actually not as complicated to make as they might at first appear.  
The Family Handyman shares how you can build window cornices, including step-by-step instructions for selecting the materials, putting the pieces together, and mounting the cornice to the wall.  There are also design tips that will help you choose the best cornice style for your home style and décor.
Read the entire post to learn these easy steps for building window cornices.