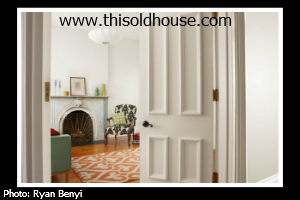 Slab-style doors are great for modern homes because they look really simple. But if you get bored with this plain look, you can give these doors a fresh new appearance by adding panel molding.  This will make your slab-style door look like a traditional panel door.
This project can be completed in as little as four hours or up to two days.  The level of difficulty is easy.  You will need the following: 1⅛-by-1¾-inch poplar nose-and-cove molding, a clamp, wood glue, and a pneumatic nail gun.
You can view the illustrated step-by-step guide here as shared by Christopher Beidel, a contributor to This Old House.  Beidel is the owner of Pernt, a handmade furniture business in New York.