Here is a charming little dryvit house in River Walk. This house has new construction Vinyl Clad windows that have rotted and failed. This style of clad window was used in the 80's primarily when clad windows were new to the industry.
The frame is wood with cladding glued over the wood. The clad wood forms the outer frame of the windows. And the glass sashes are made with a wooden frame. Homeowners had to paint and maintain the wood around the glass to prevent deterioration. This is the primary problem at this home. The sashes are in bad shape.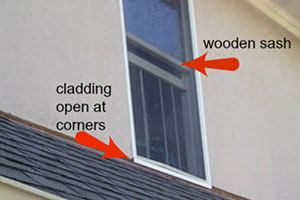 The cladding does not require painting, but there is a different problem with this design. The cladding is open at the corners. So the wood underneath the cladding absorbs water and cannot dry out. When the wood begins to rot, you can't see the problem.
If you have these older clad windows, you can check for rot by pressing on the bottom sill, if it feels soft or spongy, it is likely you have significant wood rot under the frame.
When your house has a lot of windows like this one, it's a big job to keep the sashes painted every year.