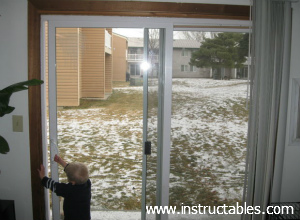 Are you finding it difficult to child-proof your sliding door? Many sliding doors use very easy locking mechanisms that even little kids can operate. If you want an easy child-proofing alternative without resorting to unsightly locks or locks that may possibly damage the sliding door itself, here is a smart option to consider.
We found this nifty idea at Instructables, and it only uses D-rings, J-hooks, and a dowel to child-proof your sliding door. What you need to do is install the J-hooks on the dowel and mount the D-rings on the interior top frame of the sliding door. You can then hook the dowel to the D-rings, which will stop your door from sliding.
This child-proofing technique essentially uses the common practice of adding a security bar to a sliding door to prevent it from opening. But this mechanism is installed at the top of the sliding door, instead of the bottom, making it inaccessible to kids. It also looks really neat and does no damage to your sliding door.
Check out the full instructions here.