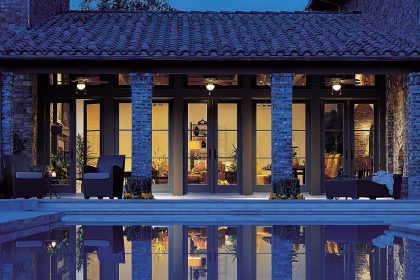 Patio doors are a great way to make a space seem larger and bring sunlight in to illuminate a room. However, if you want to go a step further and really open things up, you should spend some time thinking about the design of the room and the placement of your patio doors. Adding large windows alongside patio doors can create a seamless space between the inside of your home and your yard. Additionally, patio doors don't need to lead to a patio. Many people utilize our replacement patio doors in other parts of their home, too. Check out some ideas for patio door placement below.
Maximizing a View with Multiple Patio Doors
Combining more than one set of patio doors is a wonderful way to maximize the view of your yard. If you want to show off your well-manicured lawn, beautiful garden, new pool, or look out on surrounding lakes or mountains, then adding multiple patio doors in a row is an option worth considering. We carry a wide variety of replacement patio doors with different options for trim, grilles, and hardware from Renewal by Andersen. A design consultant from Mr. Rogers Windows can help you decide which ones would be a perfect fit for your home.
Let the Light in With French Doors on a Balcony
If you have an existing balcony or are considering adding one to your home, French doors are a great pairing. Adding a set of French patio doors to a balcony produces a timeless aesthetic that everyone appreciates. They'll also transform whichever room they're added to by bathing it in sunlight and fresh air when you open them.
Alternative Patio Door Placement
Patio doors are most often installed in the center of a wall. However, this isn't the only way to go for a patio door installation. If you have a deck that wraps alongside of your home and surrounds more than one wall, a patio door can look great in a corner. Patio doors in a corner of a room can also provide access to your yard from multiple sides of your home, making them great for easy access to your backyard.
Get in Touch
Want to learn more about our options for patio doors? We'd love to talk about your project. Give us a call or use our online form to request more information or set up a free consultation.