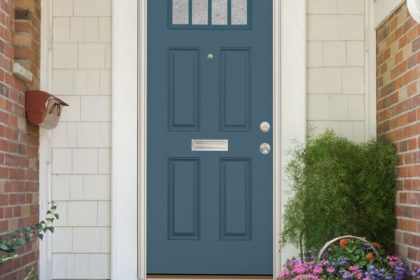 Move over red door, make way for BLUE's entry! Red has been the go to color for bold statement entry doors for years now but trends indicate 2019 will be the year of the blue door. If you're in the market for an entry door, bold colors can be a fun way to show personality. The various shades of blue are sure to fit anyone's taste.
Front doors can often be an afterthought when deciding on a home. I mean, after all, there are school zones, number of bedrooms, and fenced in yards to top the list of deciding factors in purchasing a home. But after you're all settled, your eyes keep hovering over the front door as you enter your home and you just feel like something is missing or there could be more. Don't be afraid of color! Whether you keep the same door and just paint it or invest in a complete front door replacement, there are several color options available to you.
If painting your front door is what you decide, make sure to select the appropriate type of paint. Choosing the right exterior paint will help to avoid peeling and fading. If you have a metal door, go ahead and get a paint that has rust protection. If you're leaning towards a complete door replacement, there's nothing finer than a ProVia door, which just so happens to come in a couple of very pleasing shades of blue.
Be bold in 2019 and go blue! Your neighbors will be green with envy.