Paints come in more colors than they ever have, and if your project is large enough a lot of hardware stores will mix paint for you. However, there are lots of reasons why you might want to mix paints at home. You might already own several cans of paint. If so, you can repurpose these by mixing them to create new colors and tones. Mixing paint can be a lot of fun, but there are risks involved. If you jump right in and mix all your paint together, you might end up with a color you dislike and waste a lot of paint in the process. Follow these tips to avoid running into trouble and you'll be much happier with the color you end up with.
What You'll Need
If you're going to mix paint at home, you'll need to set up your "lab". You'll want a couple ingredients and tools to ensure everything goes smoothly. Thankfully, you'll probably already have most of these lying around your home, but all of these can be acquired inexpensively if you don't. Here's what you'll need:
The paints you want to mix
A couple buckets or thoroughly washed-out paint cans to mix your paint in
A stick for stirring the paint – You'll want to make sure this is long enough to reach the bottom of your mixing bucket
White paint (to lighten colors)
A drop cloth to protect your surroundings
A flat-head screw driver or paint can opener
Paint brushes
Paper Towels
Understanding The Color Wheel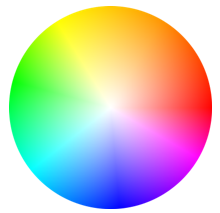 Before jumping into the wonderful world of mixing paint, you'll want to make sure you have a decent understanding of how colors are derived. All colors start from the three primary colors – red, yellow, and blue. Mixing any two of the primary colors together will make a secondary color – so for example, if you mix red and yellow together, you'll get orange. Once you've created a secondary color, you can mix it with a primary color to make intermediary colors.
This is important to keep in mind since the paint colors you begin with likely won't be primary colors. Keeping a color wheel around as a visual aid can be beneficial, and keep in mind how colors interact with each other when mixing your paint. If you're ever in doubt, try mixing only a little bit of paint together to see how it interacts.
Lightening & Darkening Paint
The quickest and easiest way to lighten a paints color is by adding some white paint. You'll likely need more than you think, but take your time and be cautious when you mix it in. You might find that it's easier to start with white paint and then add your color to it, rather than the other way around.
To darken paint, adding some grey or black paint is the way to go. Conversely to how you'd lighten paint, you'll likely get better results by adding the black or grey paint to your color, rather than the other way around. Be careful about how much you add, and you'll get the best results if you're only trying to darken your paint by a shade or two.
Want to intensify the color of your paint? Just add more of your base color to your mix. This will make your color "pop" a bit more.
Remember that paints should only be mixed with like-kinds of paint. In other words, water-based paints should only be mixed with other water-based paints, and the same is true for oil-based paints. Different sheens of paint are okay to mix together though, so feel free to mix flat and glossy paints to tone down the effect of one or the other. Lastly, if your paint has been sitting around for awhile, make sure you mix it well from the start. Paint can separate if it's been sitting for a long time, so you'll want to ensure it's mixed together before adding it to other types of paint.
Remember to have fun, and good luck with your painting project!