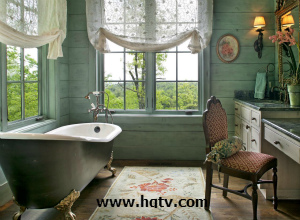 Effective bathroom window treatments serve the dual purpose of maintaining privacy and providing charm in a bright, relaxing bathroom.  HGTV offers some dainty and some sophisticated window treatment ideas that do not shut the light out of your bathroom.
The gallery includes different types of window blinds and shades, as well as curtains. It also features frosted glass, unique window design, and finally, a walled mini-garden placed just outside a bathroom that serves as cover for a floor-to-ceiling bathroom window.
Bathrooms don't need to be dark and boring in order to maintain privacy.  Check out the gallery and be inspired.