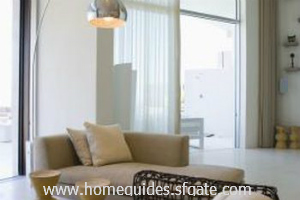 Sliding glass doors make a wonderful entry to a patio or any other room in your home. They provide a beautiful, unobstructed view of the outdoors and can let a great deal of sunshine into your home. Sometimes, however, too much glare and heat from direct sunlight can fade or even ruin the things inside your home. To prevent this, you may want to have some kind of window covering during certain times of the day or whenever you need some privacy.
Just like regular windows, you can install curtains over your sliding doors so you can control when and how much light enters your home, as well as your level of privacy.
Follow these 7 steps for installing curtains over sliding glass doors.
Find the center of the sliding glass door and make a mark 4 inches above the door.
Mark the sides of the sliding glass door, 2 inches away from each side and 4 inches up, aligning with the first mark you made.
Position the left, right, and center brackets on the marks you made and make additional marks in the screw holes.
Drill the screw holes you marked and tap in drywall anchors carefully with a hammer.
Screw the side brackets into the drywall anchors.
Install the center bracket without tightening the screws. Position your long curtain rod in the brackets, and once level, tighten the screws in the center bracket.
Put your curtains on the curtain rod and then set the rod onto the brackets.