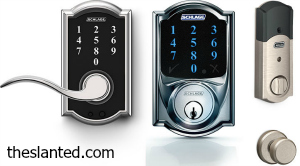 Nowadays entry doors are better equipped with modern electronic locks that add ease, convenience, and best of all, security to one's home.  Especially when there are kids and elderly family members around, it is a very practical choice to install electronic locks that make your home more convenient and secure for everyone.  So how do you choose from the wide array and brands of electronic locks on the market today?
Here are some helpful tips you can consider:
Decide between a simple keypad with buttons, touchscreen keypad, or keyless door lock;
Make sure you choose a lock that fits your entry door;
Find one that is easy to install (no wiring needed);
Choose features that you need (built-in alarm, movement sensors, tamper alert, entry and exit log, and more); and
Buy a lock with a Grade 1 rating set by the American National Standards Institute (ANSI) and the Builders Hardware Manufacturers Association (BHMA).