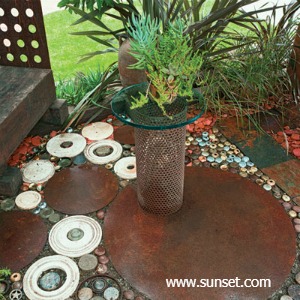 From time to time, we come across cool ideas on how to recycle old stuff.  Well, we have found a few more interesting ideas for you today.  You can use salvaged materials to decorate your home and outdoor spaces.
For example, you can use broken door knobs as patio flooring.  You can take out old window frames and door hinges and make a charming garden table.  With an old ladder and other salvaged lumber, you can build a potting station.
Take a look at other interesting DIY salvage makeovers featured at Sunset here.