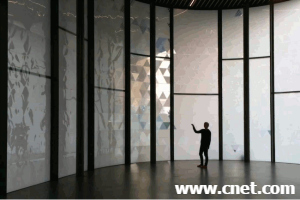 A London-based Dutch designer and artist, Simon Heijdens, designed a smart window called Shade that reacts with sunlight and wind. 
As the sun moves across the sky, the light that goes through the window changes from crisp in the morning to softer in the afternoon.  Wind, on the other hand, changes the opacity of the window cells from opaque to clear and back again to opaque.  The changes are quick, revealing a beautiful dance of light.  At night, the light from the inside emits a stunning kaleidoscope effect on the surrounding area.
Click here to read more and to see a video of the beautiful effects of Shade.