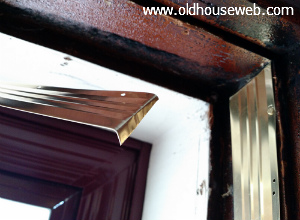 Old doors are often the cause of cold air entering your home during winter and warm air entering during summer. Allowing this to continue can lead to expensive energy bills and uncomfortable living.  
But solving this problem does not necessarily mean replacing your old door, especially if it is well-maintained and works pretty well. What you can do is install weatherstripping to make your home more energy-efficient.
The Old House Web shares 15 easy steps for installing or replacing bronze weatherstripping on your entry door. The basic steps include measuring your door, cutting the bronze weatherstripping, removing any old weatherstripping, and mounting the new weatherstripping.
The guide also includes the materials and tools you will need for the project.
Check out the complete guide here.